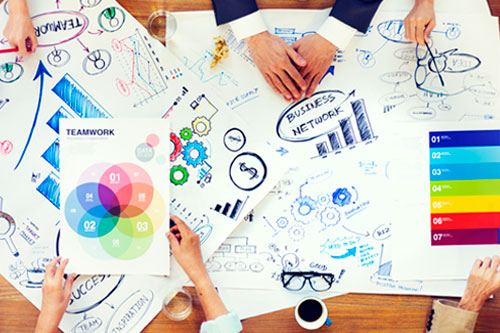 THE PERFECT INTERN FOR AN ADVERTISING AGENCY
María Gálvez. Planner.
Introduction to the internship company
In an advertising agency there are many departments where you could do an internship. It depends on the size of the agency and the type of advertising that is done. It can be a creative agency, a media agency, a digital agency, a consulting firm… I work in a creative advertising agency, and we have several departments: The Creative Department, made up of several creative teams. In each team there is a creative director and several copy+art duplicates. They all report to an executive creative director. In addition, there is the Design and Final Art Department, the Accounts Department, the Strategic Planning Department (where I work), the Media Department, the Digital Department, the Finance and Administration Department.
What must an intern have in order to do an internship at an advertising agency?
The agencies are often young and modern companies. They doesn't take into account the clothes you're going to work with. In fact, if you show up in a jacket or heels it would be a little weird.  However, it is important to look good and dress well, but many people wear jeans and trainers. When doing the interview, it is usually valued that the intern is someone cheerful, sociable and with a good attitude, as well as a responsible and good worker. It is important for us that you have an interest in our industry and a desire to learn. Depending on the department in which you are an intern, some skills or other will be sought. For design or art it is important to know how to handle programmes such as Photoshop or Illustrator; for copy it is recommended to have knowledge of creative writing, for financial accounts it is usually necessary to look for someone who is decisive and organised… For planning we usually look for someone with an interest in market research. It's very valuable for us to have young people in the agency and you are expected to keep up with things that we miss, either because we have less time or because we belong to different generations. Also to keep up to date with trends, what people your age like… to connect us with the real world of young people. This is usually super useful to bring fresh ideas, not conditioned by the work environment. Knowing languages is a plus. More and more people are defending themselves with English, but being able to work and have a working conversation in English is not easy to find. Therefore, speaking fluent English or another language is highly valued.
Recommendations on how to behave with the tutor and peers
My main recommendation when working as an intern is to be proactive. Some workers are more accessible than others. Learn how to identify them and reach out to those who are most open to them. Learn from them and ask questions, ask them to explain things and offer your help. Also, be committed to your work. If you get a responsibility assignment, finish it. The internship period is a very nice time and you learn a lot. It is an opportunity to find your way in an experience that will make you grow as a professional. At that moment anything is possible! Make it your own and start drawing your own future.
Want to be an Intern Xperience? Visit our internship programme in companies in Spain and add the X-Factor to your CV. Travel, work, learn and grow!