Logo de Intern Xperience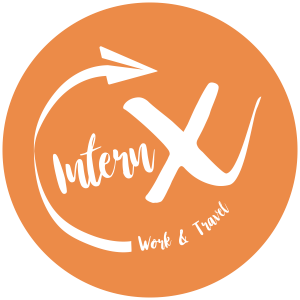 Company name: Intern Xperience
The Spanish translation would be "Experiencia de becario".
Our logotype
The circle simulates the world, and the arrow that borders the circle is a paper airplane that travels around the world in a clockwise direction, showing us a positive, travelling, international route.
Students move, want to travel, have expectations and are looking for ways to shape their future.
When we make a trip, we mark with an X on the map a point we want to reach. For a student, an Intern, an internship in an international company is something that will leave its mark on their professional career. The X that stands out in the big picture belongs to the X of the word eXperience and refers to that cross on the map that this student is willing to mark by spending a stay abroad.
Reaching this X is a path of effort and work, but it is also a path that gives us eXperience and oXygen, it is something that eXalts us, and brings us closer to a quality professional future.
Mottos:
Internships in companies with Intern Xperience will lead to an international career goal in the future.
That is why InternXperience's mottos are:
Travel, work, learn and grow
"FOR AN INTERNATIONAL AND QUALITY PROFESSIONAL FUTURE"
Colours:
The main color of Intern Xperience is orange, a vitamin color that gives us youth, energy, and movement.
But we will also play the brand and design roles with green, khaki, and salmon.